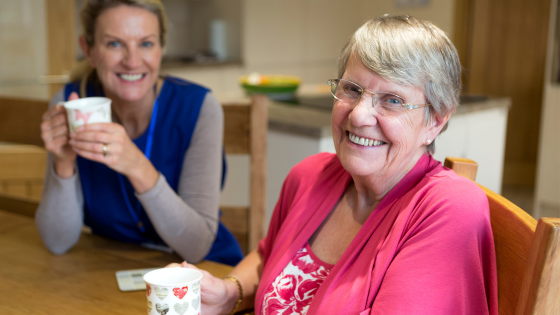 How to Overcome Caregiver Stress with Home Care
What are home care services? Who can benefit? Maybe you've heard of home care and you're wondering how it can help you.
Home care provides services to seniors and anyone who needs support to stay in their home. The services help a person to stay independent and safe at home where everyone wants to be. Home care, however, is more than the services provided. It's seeing a friendly face. Having a chat. Sharing a cup of tea. It's emotional and social support to help overcome loneliness and isolation.
It's also peace of mind for you knowing that a trusted and kind caregiver is spending time with your family member. It's knowing that your loved one isn't alone all day. A caregiver is ready to support you and take a little of the stress off you.
What Services are Provided?
Home care services are customized to each person's needs. Services include companionship, errands, personal care, housekeeping, medication reminders, meal preparation, and more.
Respite care can also be provided for a spouse or family member. If you're a caregiver, it's critical that you get a break so that you don't experience caregiver burnout.
Caring for a Person with Dementia
Caring for a person with dementia can be challenging. Earth Angels Home Care specializes in Alzheimer's and other types of dementia care. Our Client Care Managers, Catherine MacRae in Truro, and Tamara Ballard in Bridgewater are both Certified Positive Approach to Care Trainers and Coaches. All our caregivers receive specialized training and on-going support. They learn hands-on skills and how to communicate with a person living with dementia.
How Do You Get Started with Home Care?
Call us at 1-902-893-3553 (Truro office) or 902-530-6205 (Bridgewater office) or email [email protected]. Catherine or Tamara will arrange a free, no obligation assessment. It's a chance for you to ask questions and get a better idea of what services would be most helpful to you.
A care plan is developed based on the person and what their ideal day looks like. We'll ask about their likes, dislikes, background, family, interests and hobbies. The goal is to match your loved one with the perfect caregiver.
Earth Angels Home Care is the leader in dementia care. Get started today with Earth Angels Home Care on your team!
For more information on dementia and home care services, call us at 902-893-3553 (Truro) or 902-530-6205 (Bridgewater) or email [email protected].